The People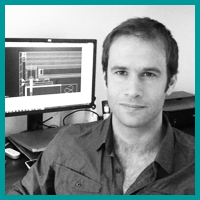 Simon started his career as a furniture designer and maker and following work on various projects involving structural glass, he decided that this was the area he wanted to concentrate on. In 2004, he decided to become a freelance designer, specialising in the design and drawing of structural glass elements.
Simon's work developed to provide his clients with a full design service; taking the projects from initial concept development, into survey work and on into full manufacturing drawings. The idea was to engage more in client's projects, clarifying and simplifying the design process from the very beginning and removing issues early on in the job, providing a broader role than the historical scope of a CAD technician.
In 2009, Simon decided to take this design and drawing work, combined with the graphic and website design work of his partner – Laura Hutchinson – and form the company Big Eye Design Ltd.
In late 2012, a new opportunity arose to combine his design experience with the installation and site management knowledge of his long term associate Steve Ellis. This has created – the amazing – Veon Ltd, which takes on the same philosophy employed in the design side, into the entire process of structural glass Design, Supply and Installation.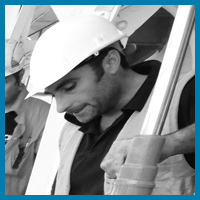 Steve Ellis has been installing structural glass since 2002. Working on projects ranging from small domestic installations, though to major commercial projects, such as the walk-on glass observation platform at
Blackpool Tower
, the
Pilkington Planar
, structurally-glazed entrance box at
Gwyn Hall
, Neath and glass flooring for the re-developed
Mary Rose Museum
in Portsmouth's Historic Dockyard, as well as residential projects for a number of high-profile individuals.
This breadth of experience, means that he is able to see potential issues in jobs before they arise, be it simple conflicts in the installation of a glass floor, or envisaging issues with glass verandas, or complex structurally bonded, glass box extensions. Using this knowledge, the design stage is the place where problems are solved, rather than on site, where it's often costly, or just too late to make changes!
The values and attitude that Steve takes into all the jobs he works on are exactly the same, with an attention to detail and a respect for the working environment. This attitude is taken on to the management of all sub-contractors that Veon use, whether it be day-labour, or specialist silicone workers. Steve's role includes making sure that anyone associated with Veon works with the same high level of care and respect that he does (and dishing out severe punishments if they don't!). Get in contact to find out more.