Design
Veon takes care of the structural glass design side of your project, from initial proposal, through to finished construction and manufacturing drawings.
The earlier we can be involved with a project the better. Whether it's a small element of a residential build, such as glass balustrades, or a glass floor, or a major renovation of listed buildings, with multiple elements and the need for careful and considerate junctions and detailing between the new and old, Veon endeavor to provide all the information and guidance necessary to create a design that will satisfy you, or your client. Contact Veon to find out more.
Structural engineering is managed by sub-contracted glazing design specialists. We work closely with the engineers to make sure that the structural design outcomes that they produce are sympathetic to your needs, or those of your client. Simplicity and minimalism are key parts of this process.
Director and Project Manager, Simon French manages the design side of the business and will be the key contact for all design related inquiries.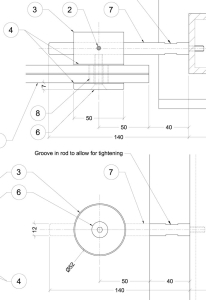 Veon work with a number of the country's leading glass manufacturers and suppliers, along with high-quality engineers, fabricators and joiners.
Glass installation takes time, care and consideration for the material; after all, you can't weld, or glue a broken piece of glass back together, so it's best to get it right the first time!